Life has been filled with so many exciting things lately, but my top five would have to be...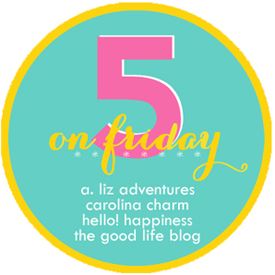 1. 18th Birthday Soirée
As you know from
this post
I turned 18 earlier in the month. Last weekend some friends and I went out for dinner to celebrate my big day!
2. College Acceptances
I am so happy to reveal that I have officially been accepted by all of the colleges to which I have applied. More to come about my decision later!
3. Senior Mother & Daughter Luncheon
My school hosts a very special event every year for the seniors. The ladies have a luncheon with their moms and the boys have a BBQ with their dads. It was such a beautiful event and it was filled with so many sweet memories! The end of the event was used as a time for mothers to share what was on their hearts and let me tell you... there was not a dry eye in the room! I have been looking forward to this event for years as I have been watching the older girls go to it since I was a young student at my school. I will treasure this day forever!
4. The Monogram Queen Got Her Own Machine!
That's right, I am official. As a birthday gift from my parents I finally got an embroidery machine and I have slapped my monogram on just about everything that I own. I'd love to hear tips or tricks from any of y'all that are experienced with embroidery machines! I definitely love mine so far.
5. Pearls and Pastries Love
If you have yet to discover the lovely etsy shop known as
Pearls and Pastries
you have been really missing out! Their sequin hangers are to die for. I recently ordered some of their prints because they have been running a really great $4 print sale lately, and my bathroom has never looked so fab! Be sure to check it out!
Hope y'all have a fab week!
XO,