Happy Friday Y'all!
I am so super duper stinkin' excited. I have always loved reading other bloggers' posts on Fridays, because many do this fun thing called "Five on Friday." I have always loved the concept of ending the week talking about the 5 things that have been on your mind, agenda, shopping list, etc! Sooo I am very pleased to announce that I am going to be joining in on the fun! I have to give some credit to
Fancy Ashley
for inspiring this, because I always adore reading her five on friday posts! Three cheers for new traditions! Also thanks to
The Good Life Blog
for starting this whole thing up!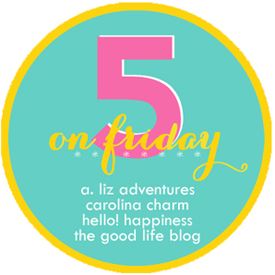 1. Le Pens
It's that time of year, when those that are graduating in the spring fall into the trap of the well-known "senioritis." In order to battle this and keep myself dedicated, I have been trying to make school work as fun as possible! I finally tried out the famous Le Pens that I always see so much about and I was instantly in LOVE! Writing in all kind of fab colors makes doing homework a little bit better.
2. Birthday Party Prep
It's hard to believe I will be turning 18 in less than a month! I always love to plan a good party, spend times with friends, and having fun so of course I'll be having an 18th birthday soiree. I'm still working to find a day that works best for all of my ladies and I'm working to find the perfect activities to celebrate my transition to adulthood.
3. Essie "A Cut Above" Polish
It's no secret that I am obsessed with Essie nail polishes, and when I discovered this new color I was in love. I think this color was made for me and will probably join "Bikini So Teeny" and "Lovie Dovie" as my all-time Essie favorites.
4. Bringing Back The "LC Braid"
I can remember running around in Middle School sporting this hairstyle far too often! Although during my awkward-stage days I didn't rock it like LC herself, it was a great and easy way to add something extra to my look. Lately I have started wearing it, and I have fallen in love all over again!
5. Spreading The Love
Many of you probably know that I am the editor of my school's newspaper, so I get to be part of all sorts of exciting activities! For our upcoming Valentine's issue we are letting the students write messages to the other students which will be printed in the paper. I gotta tell you, as the editor I am LOVING that I am the one who reads all of them... let me tell you, there is some love in the air! This photo is of my best friend and I collecting the messages at lunch, it was a blast!
That's all for now! Hope you have a fab weekend!
XO,